Floor panels or encasement sheets
If you want the structural work of your new business premises or home to be solid, it is advisable to buy floor panels from the specialist in Suriname.
Very suitable for load-bearing concrete floors
The steel encasement sheets, also known as floor panels, that you can buy at our shops in Suriname, are very suitable for load-bearing concrete floors or as permanent formwork. The profile and the special notches ensure good adhesion of the concrete. Installation is easy thanks to its light weight. In addition, the plates require little storage space.
Specifications of high-quality floor panels for your property in Suriname
All materials that we offer at Kuldipsingh, as well as our services, are all ISO 9001:2015 certified. We think it is important to supply high-quality and safe materials to our customers. The floor panels that you can purchase from us in Suriname also have many other advantages:
You save time compared to using other concrete products.
The floor plates have a low weight.
Thanks to the special notches, a strong bond with the concrete is realized.
The floor plates are suitable for a large span.
The floor plates are easy to install.
The floor plates are available in every size.
In addition to the floor plates, you will also find other building materials, such as metal profiles and roofing, at our branches in Suriname.
Order your floor plates online or contact us
ISO 9001:2015 GECERTIFICEERD
We attempt to provide high quality and service. That's why we have ISO certification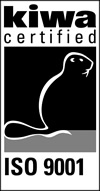 Rebar / Reinforcing steel